Case Management Services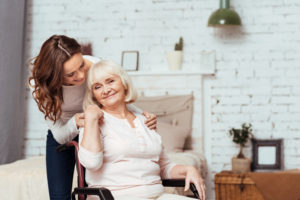 We are a valuable resource to assist in the often challenging and confusing process of making life decisions for yourself or your loved ones. At times, it can be intimidating navigating through the maze of possible providers.  We offer help to navigate the varied and complex health and human services system, locating resources, problem-solving, advocacy, solutions to keep individuals as safe and independent as possible.
Provision of a personalized one-on-one consultation to individuals, families, and others in need of guidance concerning their loved one.  Consultation includes gathering information on health, the ability to function in the living environment, financial situation, services and benefits available and health and medical providers.  The situation is assessed and immediate action steps are presented.  Solutions to needs for, benefits, home care, senior living communities, legal, financial and medical services are provided.
Services Offered through Case Management
Conduct assessment of living arrangements, social supports, finances and legal documents, and provide access to community support and create a customized, comprehensive care plan based on assessment
Advocate that will assess your situation, provide recommendations, connect you to resources, and provide ongoing support as needed.
Act as liaison with out of area family to keep them apprised of the situation;
Provide crisis intervention
Recommend assisted living facilities, home health agencies, doctors and caregivers that are cost effective and provide quality care
Responsible financial management, property management, protection of assets and planning for long-term care
Attend medical appointments and coordinate with medical providers
Insurance policy evaluation and Medicaid application assistance
Act as a liaison to families to provide frequent updates and proactive problem-solving
Assist with transition from hospital or rehabilitation to home.
Coordinate caregivers when multiple agencies need to be used.
Assist with other forms of paperwork and/or bill paying assistance.
We specialize in creative solutions for resistant or challenging behaviors.
We provide our services to the elderly, those with physical and/or mental impairments, or those who wish to prepare for the future. When arranged, we assist with bill pay if needed. We are on call 24-hour, 7-day a week for urgent needs.
Housing and Relocation Assistance
Our professional staff can assist with the daunting task of selecting the appropriate placement of those in need. With the constantly expanding and evolving choices in skilled nursing facilities, assisted living facilities and group homes, it can be difficult to make an informed decision. With a vast knowledge of the local area and services offered throughout, we can assist with this difficult decision.
Healthcare Surrogate
We can act as Health Care Surrogate if there is no one willing or able to serve.  A health care surrogate is someone designated by a principal in a written document to make health care decisions for the principal if the principal is incapable.  The Health Care Surrogate should make decisions based upon what he or she believes the principal would have made under the circumstances if they were capable of making the decision.   Ridings Solutions works with the individual, family friends or loved ones to ascertain the individuals values, beliefs and wishes in order to act in accordance with the persons wishes.
In the absence of any indication as to what the person would have chosen, the surrogate may consider the patient's best interest in deciding that treatments be withheld or withdrawn.  (No requirement for diligent search to determine wishes or need to be supported by clear and convincing evidence
Guardianship
Florida Statute 744.102 defines a Guardian as "a person who has been appointed by the court to act on behalf of a ward's person or property, or both."
A Plenary Guardian is a person who has been appointed by the court to exercise all delegable legal rights and powers of the ward after the court has found that the ward lacks the capacity to perform all of the tasks necessary to care for his person or property.
A Limited Guardian is a guardian who has appointed by the court to exercise the legal rights and powers specifically designated by court order entered after the court has found that the ward lacks the capacity to do some, but not all, of the tasks necessary to care for his person or property or after the person, has voluntarily petitioned for appointment of a limited guardian.
A property is defined as "both real and personal property or any interest in it and anything that can be the subject of ownership."
Riding's first priority is always to consider our clients' wishes and welfare. Our dedicated staff has a reputation for straightforward, unbiased guidance and assistance through difficult choices. We explain choices and probable outcomes while seeing to the needs and wishes of each valued client. This is why a growing number of social workers, facility administrators and attorneys refer clients to Riding Solutions – a leading provider of guardianship and trustee services.